An Phat Holdings, a pioneer in the production of bioplastic products in Vietnam, was just granted a trademark registration certificate by the United States Patent and Trademark Office for its AnEco-branded compostable and compostable product line. This is a notable success for the company in cultivating and developing overseas output markets for its green products.
The registration of the trademark in the US not only allows AnEco to get legitimate legal protection in the US, it also opens up a multitude of opportunities for APH to expedite business co-operation projects and bring AnEco compostable products to the US and North American markets.
In light of the United States Patent and Trademark Office (USPTO) decision, AnEco will receive protection for 10 years, with a possibility of subsequent extension. Through US trademark protection, the company will be able to scale up sales of AnEco products in this demanding market.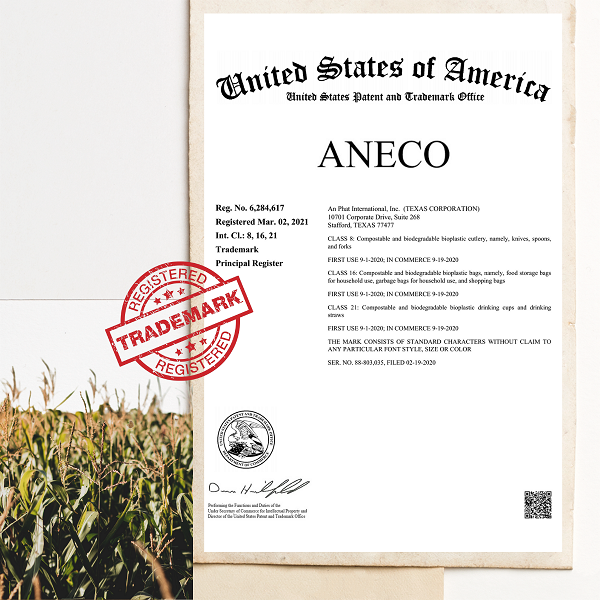 AnEco product lineups benefiting from this certification include compostable products such as: cutlery (knives, spoons, and forks); food storage bags, garbage bags, and shopping bags; drinking cups and straws.
The AnEco product lineup was developed and launched in the global market by An Phat Holdings (APH) since 2015. As of now, the products have made forays into more than 20 countries, including fastidious markets like the US, Italy, France, and Australia.
With AnEco, APH has become the trailblazer in Vietnam in producing environmentally friendly products. Compostable products under the AnEco brand have undergone strict quality verification processes and won the world's leading certificates, including OK Compost HOME and OK Compost INDUSTRIAL by TUV Austria, BPI Compostable (US) or DIN CERTCO (Germany), and Biobased 50-85%, among others.
In its global green supply chain integration strategy, APH has made the US its focal market and has prepared to fully tap into the market in the upcoming years. To receive the protection of the US administration, the company had spared no efforts for more than two years to develop this green product lineup for this demanding market.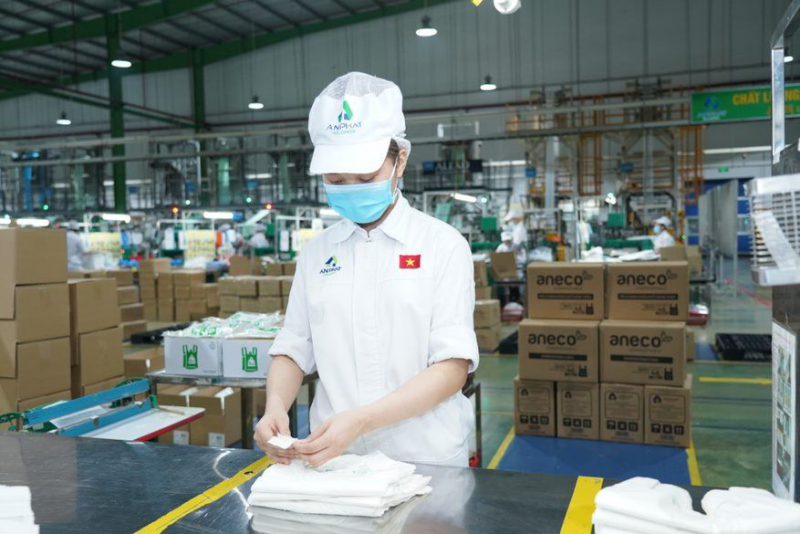 Leveraging the operation of its representative office and two member units in the US market – An Phat International and AFC Ecoplastics – and activities for investment promotion by diverse investment funds and US businesses, An Phat Holdings has been consolidating firm market footholds for AnEco products. In the coming time, the company has set focus on strengthening AnEco's online business.
Alongside global market expansion efforts, in Vietnam, APH has been building Southeast Asia's biggest compostable material manufacturing plant (PBAT) in the port city of Haiphong.
With an estimated annual capacity of 30,000 tonnes, the plant is slated to kick-off construction in this September and begin commercial operation from 2023 to join the global supply chain.
Seventy per cent of the plant output will serve APH's production needs, particularly items under the AnEco brand to satisfy domestic and export demand. The plant's commercial operation is expected to significantly reduce the production cost of APH's green products.
The remaining 30 per cent of material produced by PBAT will feed local production firms as well as export markets.
Through ceaseless efforts on research and development, APH aims to become self-controlled in material sources, from there lowering production costs and sharpening competitiveness in both domestic and export markets.