On December 23, 2018, An Tien Industries JSC (HOSE: HII) was honored to receive Vietnam Gold Star Award for the first time. This is a prestigious award for Vietnamese typical brands and products given by Vietnam Youth Federation's Central Committee and Vietnam Young Entrepreneurs Association during international integration. This year award has a special meaning, officially marking a 15-year development milestone and the 25th anniversary of Vietnam Young Entrepreneurs movement.
An Tien Industries was also honored as TOP 100 typical brands in Vietnam with Ancal plastic additives, which is a strong driving force for An Tien Industries in particular and An Phat Holdings (APH) in general for the development of business activities, implementing corporate social responsibilities activities contributing to the country's development.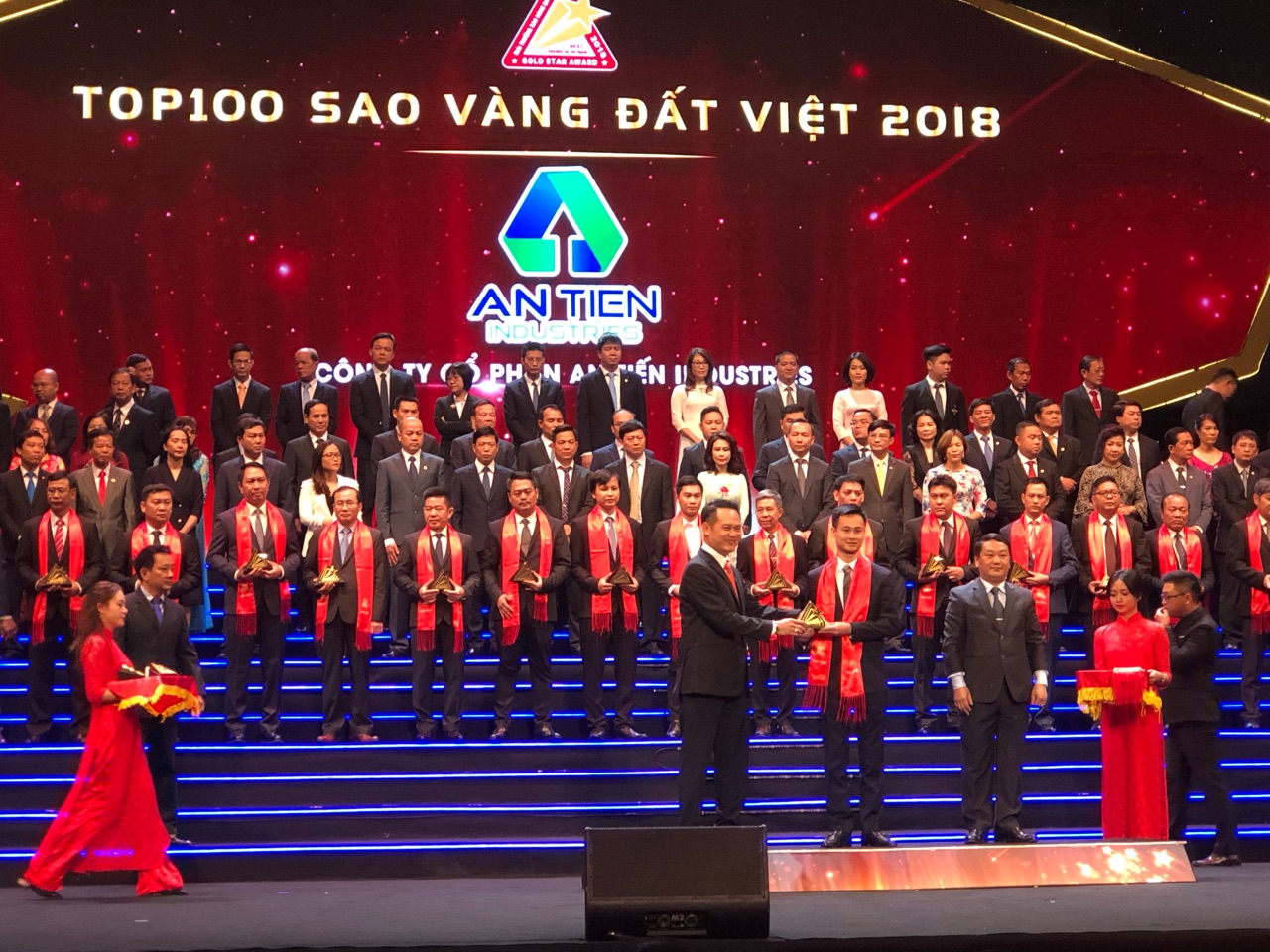 An Tien Industries was honored to receive Vietnam Gold Star Award in 2018
In 2017, An Tien Industries was also proud to receive the Prime Minister's Certificate of Merit for its business achievements from 2012 to 2016, contributing to the development of socialist republic and national defense.
Along with An Tien Industries, a subsidiary of APH named An Phat Plastic and Green Environment Joint Stock Company (HOSE: AAA) has also been honored Vietnam Gold Star Award three times.
An Tien Industries JSC (HOSE: HII, renamed from An Phat – Yen Bai Plastic and Minerals JSC) was established in October 2009 in the Southern Industrial Zone, Van Tien Commune, Yen Bai City, Yen Bai province, a subsidiary of An Phat Holdings.
With the major production of ANCAL plastic additives, CaCo3 ultrafine stone powder, An Tien Industries is aiming to be the largest plastic additives manufacturer in Southeast Asia.
In 2018, the total revenue of An Tien Industries is expected to reach VND 2,200 billion, the profit is estimated to reach VND 120 billion, the average growth rate of 3 years from 2016 to 2018 increases by 327% in revenue and 245% in profit.
An Phat Holdings (APH) was established in 2002 with the first core business of manufacturing thin-film packaging exporting to foreign markets. APH has 12 subsidiaries and 13 factories across across Vietnam and more than 4,000 employees. Its 2017 revenue reached VND 4,076 billion, profit reached over VND 263 billion.
Currently, APH has expanded its business into 6 different areas, including: Bioplastics, packaging plastics, interior plastic, engineering plastics, petrochemicals and fibers. At the same time, APH has also implemented An Phat High-Tech Industrial Park project with high-tech plastic products, injection molding plastic and plastic parts to serve the needs of FDI enterprises in Vietnam.
APH's products are exported to many countries around the world such as Japan, EU, USA, etc. In November 2018, APH also acquired Hanoi Joint Stock Company (Hanoi Plastics) to enhance its strength in the field of engineering plastics.