On November 2, the Organizing Committee of the Vietnam National Brand Program announced that AnEco compostable bags were awarded as "Vietnam National Brand". This is the first time in nearly 20 years that biodegradable products have appeared in the ranking of Vietnam Value – the only program of the Vietnamese Government to promote the image and national brand through supporting businesses to evolve their product brands, goods and services. This also marks the great success of An Phat Holdings in developing environmentally friendly product line.
On the evening of November 2, 2022 the announcement ceremony of the 8th Vietnam National Brand Program with the theme "Creating the Future" was taken place in Hanoi. Prime Minister Pham Minh Chinh attended and delivered a speech at the ceremony.
Vietnam Value 2022 marks the first time An Phat Holdings participated in the selection and won the Vietnam's National Brand. According to the results announced by the Organizing Committee, AnEco compostable bags are recognized as national brand products including food wrap, shopping bags and trash bags.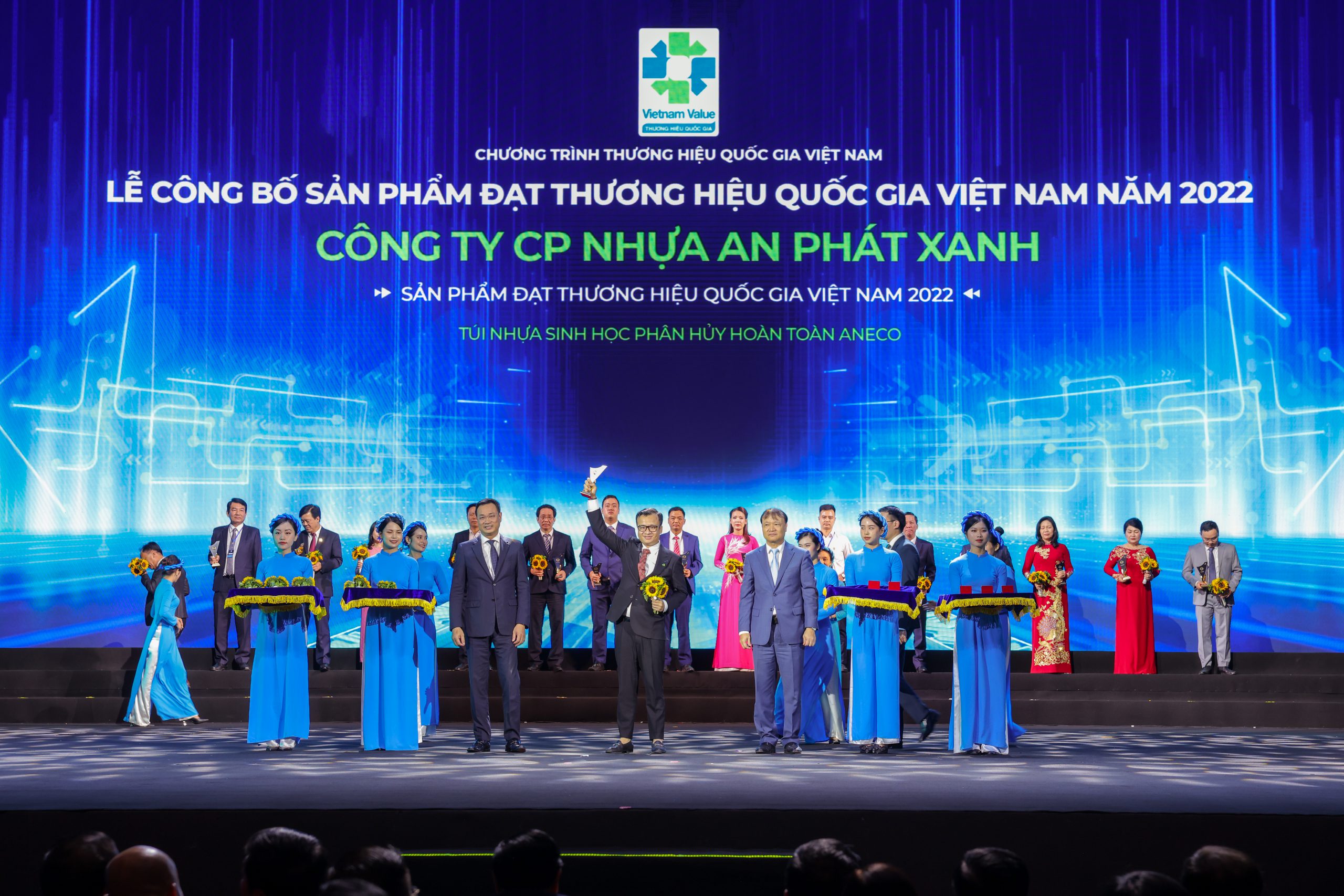 AnEco has researched and developed since 2013 with the aim of changing consumers' habits of using traditional plastic products, offering practical solutions to replace single-use plastic ones. As the white pollution crisis has become a global problem, AnEco products contribute to reducing plastic waste.
AnEco is methodically oriented with an obvious strategy focus, in line with the core criteria of Vietnam value program which is "Quality – Innovation, Creativity – Pioneering Competence".
Accordingly, AnEco products are manufactured based on a strict production process, from 100% compostable materials such as PBAT, PLA, PBS, etc., which are renewable and sustainable. Unlike conventional plastics, AnEco products are capable of completely decomposing into water, CO2 and humus, leaving no microplastics or environmental pollutants.
Especially, AnEco products achieved many prestigious international certificates of biodegradability such as: TCVN 13114, TUV OK Compost HOME, TUV OK Compost INDUSTRIAL, BPI Compostable and DIN Certco Compostable which ensure safety for consumers' health and make no harm to environment.